SUPPORT THE WORK THE FRIARS
Franciscan TV is brought to you by The Franciscan Friars of Holy Name Province. Only with your support can we continue to bring you our spiritual programs. Your tax-deductible donation supports Franciscan TV, as well as our work with the 2 million poor and desperate men, women and children who come to us each year, for food, shelter and comfort.

With the help of St. Anthony's Guild, the Francsicans work among the poor, alienated and homeless, helping in parishes, urban service churches, schools and serving as chaplains in hospitals and other ministries.

Your donation to FriarWorks supports our ministries that provide direct services to the poor, assists with the cost of educating our young Friars, and helps us care for our elderly Friars who have served so many for so long.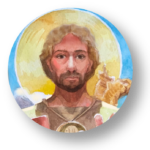 The Franciscan Friars invite you to send your prayers and intentions to St. Jude, as he signifies hope to those facing impossible trials and tribulations in life.